Rory McIlroy voted PGA Tour Player of the Year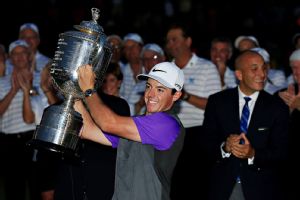 ST. ANDREWS, Scotland — Rory McIlroy has been voted the PGA Tour player of the year for the second time in three years.
Since Tiger has been completely non-existent on the PGA Tour, golf has really needed a superstar. I admit, I am a Tiger fan, and golf sucks without him, but its nice to see a new face of golf emerge. Rory has been playing outstanding golf, winning the seasons last two majors as well as a win at the WGC Bridgestone, another great fielded tournament.
Rory now has 4 majors at the age of 25 and shows absolutely no sign of letting his foot off the gas. 18 majors is going to be tough to catch, the technology and equipment progressing each year are going to make this unfeasible, but its fun to have a guy that has a chance. He also has a chance for the "Tiger Slam" going into The Masters in the Spring.
On a side note: Tiger is opening his own restaurant in Jupiter, Florida, so hes got that going for him, which is nice… Wonder if there's going to be a champagne room to take a waitress into??